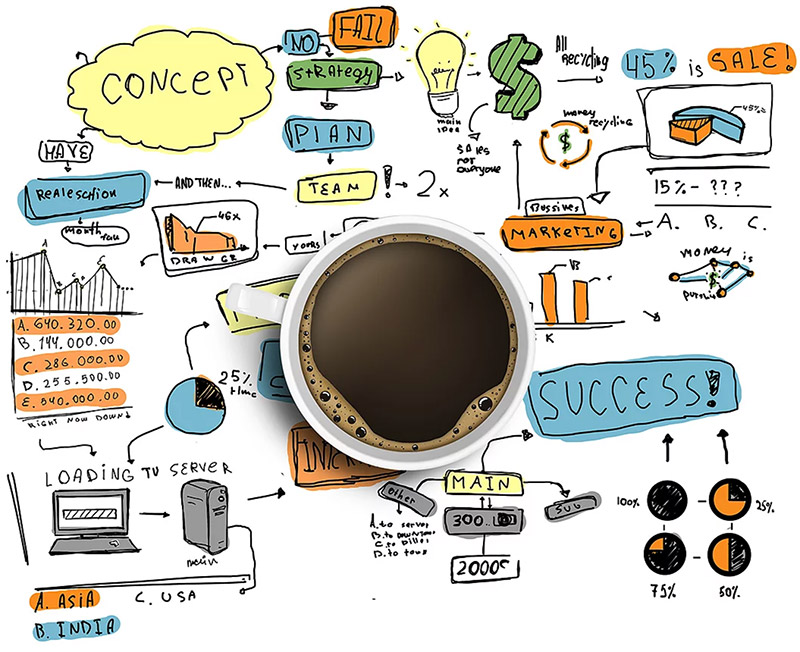 When you are launching a new business, usually cash is limited unless you have ample working capital on hand. For any successful startup, learning how to get the most "bang for your buck" is essential. Working double-duty with extra overtime seems to happen frequently for business owners and wearing multiple hats for accounting, sales, operations and marketing quickly becomes fashionable. Unfortunately, not all owners maybe good at all things, so outsourcing marketing and advertising can  help alleviate the extra work.
How to maximize your marketing
If you have a strong accounting and sales background, numbers might come easy to you, which is a great asset for any business. But if you didn't plan on maintaining your very own marketing department for your business, outsourcing marketing and advertising might help free up more time to concentrate on your accounting and sales.
Like most things, the foundations of marketing are put into practice with traditional and digital methods. Digital marketing includes areas such as SEO, SEM, Social Media, Public Relations, Pay Per Click advertising and targeted email campaigns. Marketing and advertising agencies may offer to supervise these services for your business so they can optimize your brand effectively.
The Key Performance Indicator (KPI) for digital marketing allows you to measure your initial results, tweak them as necessary along the way and re-launch more effective campaigns to produce better results as you move forward. Digital marketing and analysis is a constant cycle and requires daily and/or weekly monitoring to maintain strong results. Outsourcing marketing to an agency can put more eyes on your digital strategies and maintain their effectiveness. Since algorithms can change daily and sometimes multiple times in a single day, having a dedicated team to monitor analytic data is key to keeping a successful campaign on track.
Staying on top of social media campaigns via real-time interaction (not just posts scheduled 6 months in advance with hopes of becoming effective) is time-consuming but important. Posts on platforms like Facebook, Twitter, Instagram, Pinterest and LinkedIn should be cross-promoted strategically to include omnichannel marketing. Traditional marketing, such as TV, radio and print can be more complex to measure unless you apply vanity tracking numbers or URLs to the mix. Outsourcing marketing and advertising duties to a creative agency offers a one-stop shop approach where the agency will produce, create and track the results of each campaign for you.
Outsourcing marketing and advertising
The amount of time business owners would have to spend learning, trying to track, measuring and tweaking a campaign may be more than they can spare each month. Instead of learning new algorithms for specific digital marketing strategies, a business owner could (and most likely should) focus on bringing in more sales to the business and outsource the marketing efforts.
Sales are the life blood of your company and hiring a marketing agency can help alleviate the burden of managing the marketing, public relations and social strategies. Outsourcing marketing and advertising to an agency can feel like you just hired an entire marketing department at your disposal, but you won't have to pay out payroll, taxes, benefits and room and board costs.
A good marketing agency should take the time to build a plan to accomplish your business goals. How do you know which way to go, if you don't have a traceable map? Outsourcing marketing and advertising to a reputable agency will offer a strategic partner to help build the plan.
Red flags to watch when hiring an agency
A reliable and reputable marketing agency should be willing to share your creative files, digital reporting, advertising rates, access to your published content and related information with clients. Any agency that tries to avoid sharing measurement or data for advertising, may be trying to hide something.
If you are constantly asking for things, it may mean that an agency isn't being proactive. An invested agency should be creatively centered and open to share anything beneficial to a client.
Marketing research is a strong foundation for sales
Make sure you agency is ready to invest it's time into researching your brand before you get started. It's important to research the business, your competition and related demographics to help you target the marketing in the right direction. Much research should go into the initial stage of the business relationship, so you understand the best sales channels.
Hiring a reputable creative agency to handle your marketing and advertising can help you accomplish vital milestones for your business, including building the new website, developing sales collateral, performing social reach campaigns and overseeing public relations. The agency should give your company insight on how to best connect with customers so you can inspire, engage and retain loyalty to your brand. In ten years, when you look back at where you started, you should still feel like your agency is just as invested as they were at the beginning. A good agency will evolve and grow with you.
If you are looking to hire an extra set of hands to help with your creative heavy lifting – call us for a free consultation.
Contact Us