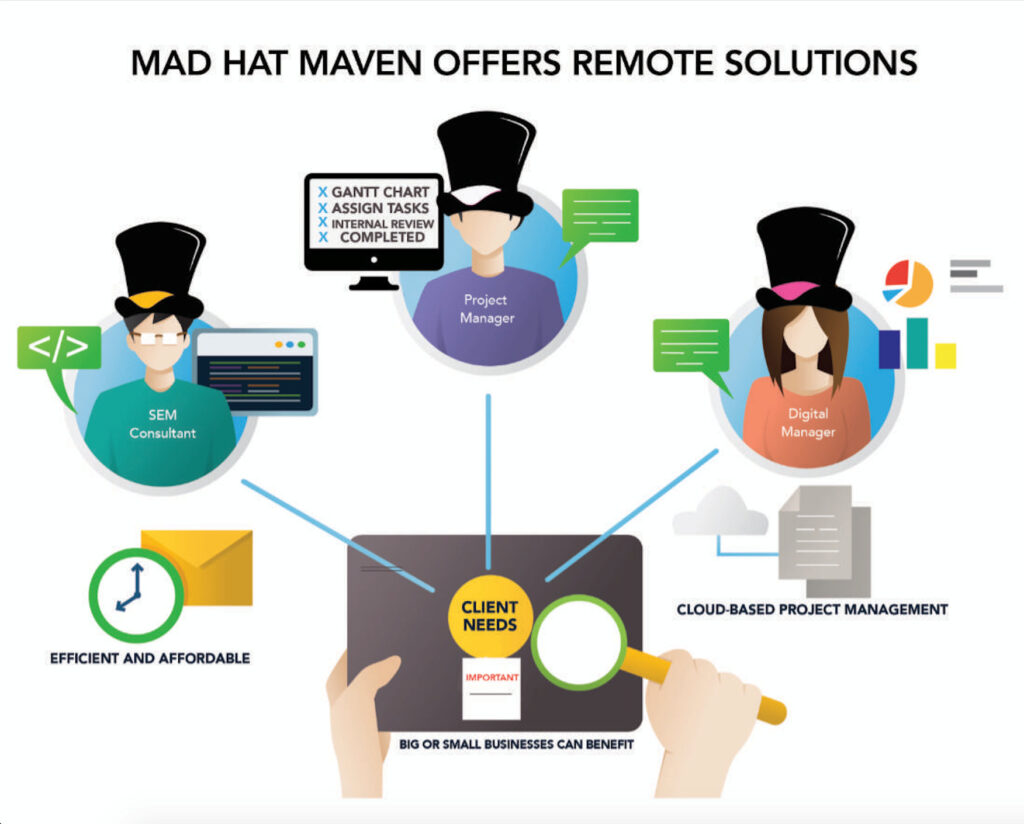 In the midst of the coronavirus pandemic, many companies have switched to remote work for the safety of their employees and the public. For people who haven't spent much time working from home, this can be a disorienting transition. If you're an executive or a team leader, you may have a lot of questions right now about the best ways to keep your team connected while managing remotely.
Ideally, companies have a plan in place for completing projects while working remotely. Unfortunately, the pandemic has resulted in a lot of workers staying home suddenly and without a detailed plan in place. If this sounds like you and your employees, don't despair. Just follow these tips to keep your team organized and productive.
The Challenges of Remote Work
When you begin working remotely, it's important to know about the challenges you're most likely to face so you can decide how you're going to deal with them. The most common issues caused by a transition to working from home include:
A loss of communication. Employees who are used to speaking with each other and with their managers face to face on a daily basis may struggle to stay organized and up-to-date working remotely.
Isolation. For most people, the office isn't just a place where the work gets done. It provides opportunities for socializing that they will miss working from home.
Distractions around the house. Due to school closures, some of your employees may be home with children who will require time and attention. Other employees may simply find it harder to concentrate on work tasks with pets and other members of the household around.
Anxiety. While some employees prefer working remotely, others may feel anxious about being cut off from their usual lines of communication with the company. Your team members will likely have a lot of questions about processes, expectations, and what's currently going on within your company.
Now that you know what you're likely to be dealing with as the manager of a remote work team, how can you cope with these issues? Don't worry, there are steps you can take to minimize the disruption of your company's operations, including:
Communicate, Communicate, Communicate
Ensuring that each member of the team has the most accurate and up-to-date information they need daily is the key to staying productive. To achieve this, start by considering the communication tools your team has to work with. Is everyone set up with a laptop and access to the apps or platforms they need to keep in touch? Does your office require a VPN and security clearance? Make sure your team has the equipment they need to work successfully.
Your company may already have preferred tools for team communication and project management, like Zoom, Hangouts or Microsoft SharePoint. If so, make sure that every member of your team knows how to use these tools so they can work effectively from home. If you can't afford fancy enterprise systems, utilize texting each other, participating in conference calls and tracking the progress of group projects through shared documents and spreadsheets.
Once the lines of communication are established, use them daily. You may want to begin every workday with a team meeting to go over assignments and expectations for the day. In addition to team meetings, it's also important to check in with your employees one-on-one to see how they're adjusting to remote work. It's very important that everyone knows how to contact you and when you'll be available to answer questions.
Make the Time to Socialize
Social distancing and quarantines often bring challenges of isolation and loneliness. You can help your employees adjust to remote work by setting up opportunities to socialize during the day. Consider beginning your daily meeting with a few minutes of non-work-related conversation. Ask your team how they're doing and invite everyone to share a little about their lives.
You may even want to schedule fun opportunities for your team, like remote office parties. Having some time to relax and unwind and be honest about how this virus has personally affected them can make a big difference for your team. If you can utilize video conferencing, do it. It can really help bring a team closer together during tough times. You can even organize a group exercise on "Wellness Wednesdays" via video conferencing.
Trust Your Team
One of the most important things you can do for employees working remotely is to trust them. Everyone is managing a lot of concerns while working in unusual circumstances, so now is not the time to micromanage. Allow for flexibility in your employees' daily schedule. Focus on the outcomes of their work and try not to get bogged down in the details of their work routine.
In addition to trusting your remote work team, you need to let them know that they can trust you. It is critical that each employee knows where to go with questions or concerns and that it is easily available. For workers who are struggling to adjust to remote work, you can provide valuable support. Make sure they know the common tips on how to adjust, like keeping to a regular schedule and incorporating some kind of exercise or physical activity during the day.
Transparency Eases Anxiety
Employees who suddenly find themselves doing remote work will require some guidance, especially in the beginning. Be clear and upfront about your expectations as a team leader. You should have a process planned out, assignments will be turned in, reviewed and completed. Additionally, each team member should know the timeline and deliverables for every project they're assigned to. Make sure everyone on the team understands the process they'll be using.
This is also a time when your employees will likely have a lot of concerns about the company, how it's being managed and what its future will look like. Transparency is important for assuaging fears and building trust. Let your workers know they can come to you with questions as you will answer them to the best of your ability.
Bring in the Pros
Global situations like coronavirus change every day, and new information is always coming in. It's vitally important to communicate news, updated policies and procedures, health and safety information, and anything else your employees will need to know. With the help of a professional content creation team, they will be able support you with clear and consistent communication and be able to give recommendations on how that should be distributed.
In addition to keeping your team informed, you'll also need to help keep everyone on track with their short-term and long-term projects. Maintaining organization for teams and assignments can be a challenge in the best of times, however it can be more challenging during chaotic times. Consider hiring additional support like a project management team to help orchestrate your projects, people and communications.
Mad Hat Maven Is Here to Help
At Mad Hat Maven, we're used to thinking on our toes while wearing many hats. Let us help your team stay informed with the most up-to-date information and communicate it in a way that is both effective, informative and will help keep your team on track. We are standing by ready to work remotely or onsite, depending on the needs of your business. If you need assistance keeping multiple projects organized and on track, our project managers are ready to come to the rescue. We can assign creative members to your team, including graphic designers, copywriters, content strategists, creative directors, videographers, editors and digital specialists. When the world turns into one big remote hub, it's important to develop internal and external communications around a strong, well-planned digital strategy.
Contact us to set up your free consultation.