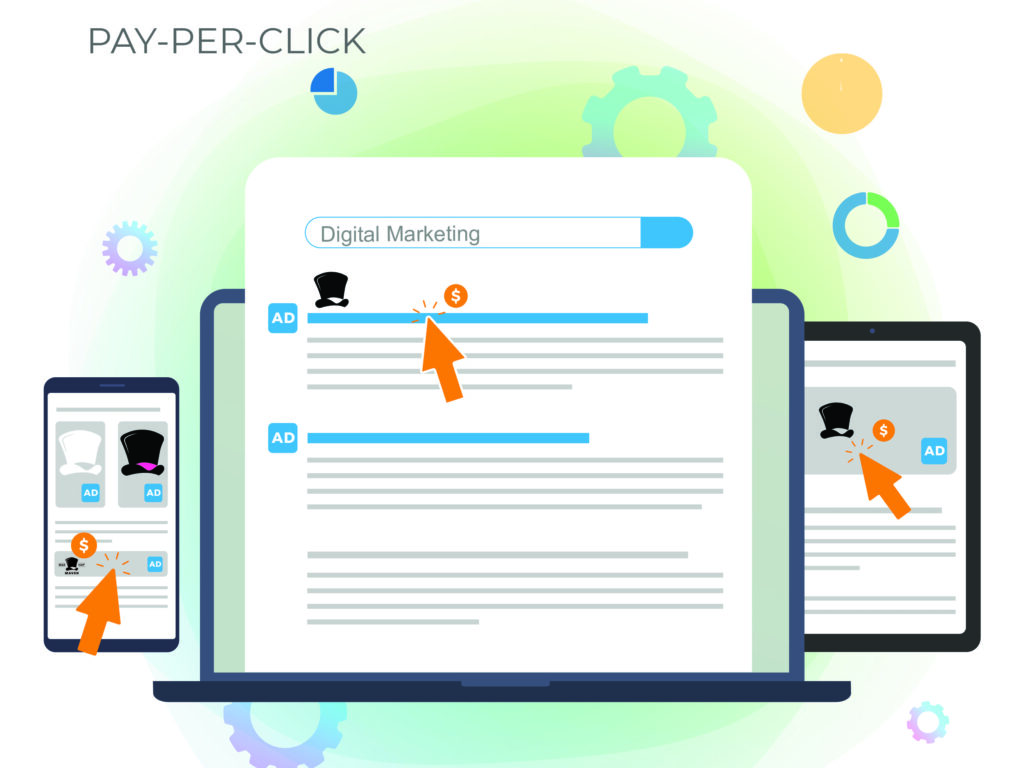 How PPC Advertising with Google Pays Off
If Google receives 63,000+ searches per second on any given day, that's at least two trillion searches a year, 3.8 million searches per minute, 228 million searches per hour, and 5.6 billion searches per day. We humans are curious folks, eh?
In addition to social media and blogging, one strategy you never want to overlook is pay-per-click advertising, commonly known as PPC. When you run a PPC advertising campaign, you pay a certain amount each time someone clicks on your ad until it reaches a capped budget that you control.
PPC ads can appear on websites or social media channels, but one of the largest and most popular platforms is Google Ads. A well written Google ad can appear at the top of the search results page and bring new customers to your company website. To get that top spot, however, you need careful planning and a lot of data. So how does it all work?
Let's Start with the Basics
A PPC advertising campaign consists of three parts:
A list of keywords. Keywords are the search terms that will bring people to your ad. They need to be highly relevant to your business, or Google may not show your ad in search results. They're also one of the factors that affect the cost per click (CPC) that you'll be paying for your ads. The CPC for your campaign could range from a dollar or two to hundreds of dollars per click, so you definitely want to choose the best keywords to stay on budget. 
Ad copy. Google has strict character limits for their ads, so your copy needs to be short and sweet. You'll have a maximum of three headlines, two lines of description and four short "call outs" to work with.
Landing page. This is the page on your business website that your ads will link to. It's your chance to convert viewers into new customers by encouraging them to contact you or shop your available products.
For your campaign to be successful, all three components need to work together. Your keywords should be relevant to the specific audience you're targeting. The ads should be based on a specific content strategy that maximizes your visibility online. And finally, if you want to track, make sure the place you drive the online traffic (i.e. webpage) should be relevant to the people who click on your ad. This is important; if Google determines that your ads or landing page are not relevant to the audience, your ad may not appear in its search results.
Why Invest in PPC Advertising?
At this point, a Google Ads campaign may seem like a lot of work and it's true that successful PPC advertising requires a certain amount of research and content strategy. However, many businesses consider the investment worth the advantages it offers, including:
Increase traffic to your website. Search engine optimization and online ads can actually double the traffic to your site.
Find motivated buyers. Research shows that visitors from a PPC campaign are 50% more likely to make a purchase than visitors from other sources.
Adapt as you go. You can adjust PPC ads much more quickly than a traditional advertising campaign. This gives you the opportunity to monitor how your campaign is performing and try new strategies when necessary.
Personalize your ads. In addition to basing your keywords based on your target audience, you can also choose where your ads will run, and target specific demographics – the people who are most likely to respond to them.
Expand your reach. Google runs billions of searches a day. Few other platforms can provide that kind of audience.
Set your own budget. The total cost of a campaign is determined in advance by you. If your marketing budget varies from month to month or quarter to quarter, you can adjust your campaign accordingly.
These advantages have made PPC campaigns popular with businesses of all sizes. And because you can begin viewing results of your campaign so quickly, it's relatively easy to give it a try and see if the results are worth the investment for your business.
Ready to Get Started?
If you are interested in investing in PPC advertising for your business, we can help. Our Content Specialists will help research the best keywords and create attention-grabbing ads. Mad Hat Maven creates data-driven ad campaigns tailored to a variety of business goals, whether you need the phone to ring or you want to increase your sales leads. Contact us to schedule a free initial consultation.