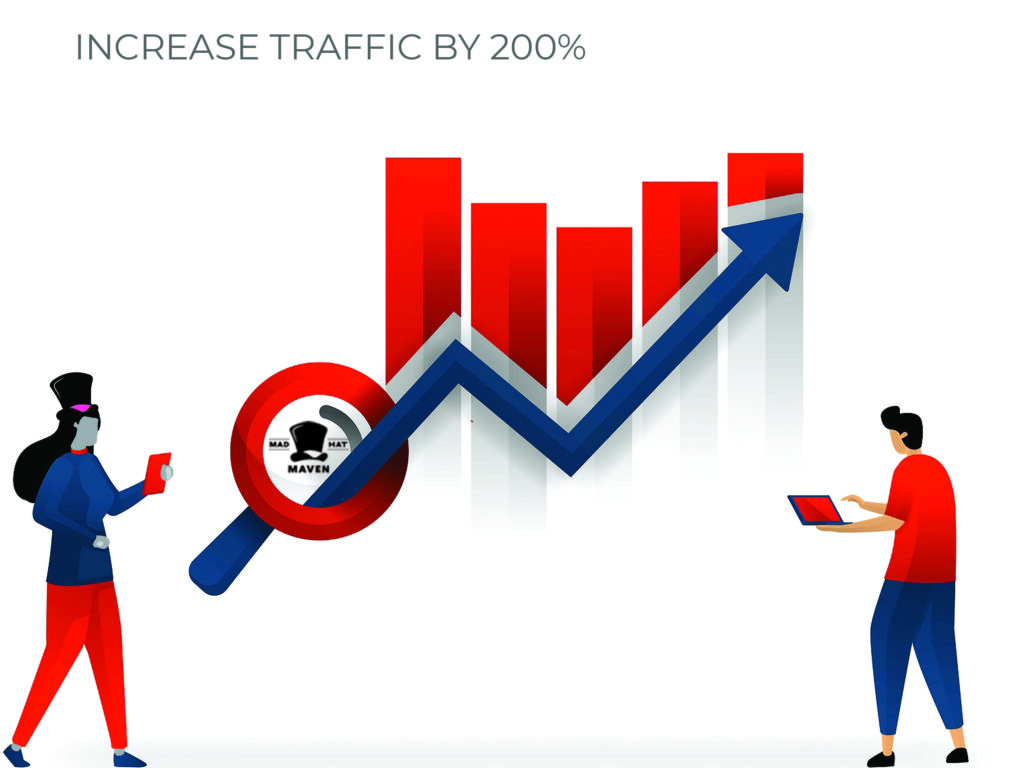 Stay in your lane!" "Use a blinker!" "How much further?"
Traffic. When you're sitting in a car, it's no picnic. But when you're watching internet traffic to your website translate to contacts and sales, traffic is a blessing. The most successful website traffic involves not staying in one lane and making sure that your road ahead goes on for miles.
All Roads Lead to Your Website
Before we talk about traffic, let's make sure the destination is worth the effort. Your business website should be inviting, informative, easy to navigate, and optimized using terminology that allows search engines to find you. An effective website will allow visitors from all over the world to learn about your business, making physical distance obsolete in many cases. It should also go without saying that speed is an issue; the faster and more responsive your site is, the better. There's nothing more frustrating to a potential customer than having to wait for website elements to load up. What's their solution? Find another vendor. In other words, don't load your site with so many "bells and whistles" that may ultimately cost you a customer.
Pick a Lane
Pick several. There are many internet channels available to a business looking to increase their website traffic. Let's look at some of the options:
Social Media – channels such as Facebook, Instagram, Twitter, LinkedIn, and Pinterest are great ways to expose your business to a variety of potential customers. By defining your target demographics, paid advertisements (even with minimal spending) can get your message in front of your desired audience. Facebook and Instagram are certainly the big players here; maintaining a deliberate and well-curated social media account enhances branding and establishes reputation. With their historical timelines and posts, your images, offers and statements live long after you click "post." Keep your messaging on brand and on target. Pinterest, often overlooked in social media marketing strategies, is a highly effective tool for increasing your SEO and ultimately driving website traffic.
Email Marketing – certainly one of the first entries in online marketing, email remains a great avenue to direct customers to your website. Email lists are built and groomed over time to allow you an audience that already has a relationship with your business. It's like an old friend checking in. An engaging and well-timed email retention campaign can offer more long-form information and offers than a quick Facebook post. Email services such as Constant Contact and Mail Chimp offer detailed analytics, allowing you to see where you're being effective.
Blogging –  Don't underestimate the power of a blog. You may think, "who reads that stuff?" You'd be surprised. The internet is full of experts, and if you've got information to share, people will find it. The larger advantage of blogs, however, is the opportunity they present for SEO (search engine optimization). Let's say you run a bike shop, that also does some repair work. You often blog about new bike makers, tune-ups, as well as local cycling activity. A cyclist is searching for "bike trails" and comes across your blog on favorite trails in the area. Now you've got a chance to engage with a customer. He may not need a bike or repair right now, but you've established a connection and brought eyes to your website. That customer wasn't looking for a bike shop, but they found you anyway. By including plenty of internal links, now you're driving them through other pages on your site. Provide value and your reputation grows. You may even invite guest bloggers to write for your site and parlay their notoriety into website traffic for you.
Video – YouTube continues to offer a great avenue to explore more long-form topics as well as shorter commercial-type videos that can all lead traffic back to your website. Video production doesn't need to be high-end studio-quality; in fact, most phones now can produce a video that works just fine for YouTube. Avoid too many tricks with production unless you really know what you're doing. Most importantly, let everyone know where to go for more information – your website, of course.
All of these lanes, working in concert drive website traffic. You may find better results with one of the others, but a multi-faceted approach will yield the best overall results.
Reaching the Destination
Driving website traffic. That's what it's all about. If one lane isn't getting you there, try another. Sometimes navigating alone is overwhelming. At Mad Hat Maven, we're professional drivers and we've been around the website block a time or two. Our team of digital marketing experts can help steer traffic to your destination. Contact our experts today and let us help.