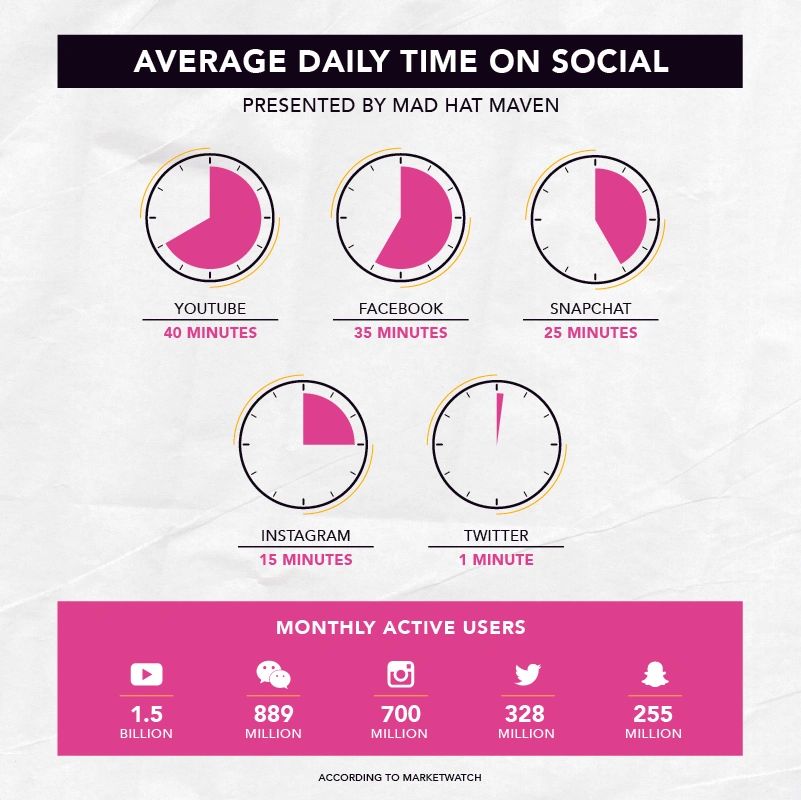 The world of online marketing is constantly changing. A strategy that was effective last year may not yield results today, so it's important to stay flexible and keep your finger on the pulse of new creative ideas. For example, if you haven't been using video marketing to share information internally or externally to help tell your story, now is the time to get started. Even if you have, the future of video may look very different from what you've been doing so far. Just think about how radio has evolved in the last decade. Radio stars have had to adapt to digital means. Old school radio promos aren't producing the same kind of results. But one thing hasn't changed: music still makes the people come together. So what's next?
Use a social machine and new technology
People are increasingly turning to their phones for entertainment, rather than their laptops or TVs. In fact, according to recent statistics, 79 percent of U.S. Americans have a social media profile, representing a three percent decrease compared to 2018. Of course, this has important implications for marketing. Did you know that 85% of Generation Z (born from the mid-90s through the early 2000s) learn about new brands from social media? Research also shows that video is a particularly effective medium to increase brand recall.
According to Nielsen Ratings and MarketWatch, the average daily time spent on social media channels is 40 minutes for YouTube, 35 minutes on Facebook, 25 minutes on SnapChat, 15 minutes on Instagram and 1 minute on Twitter. With one-third of online activity spent watching video, it's imperative businesses have a video marketing plan integrated into their plan and budget.
Video marketing on social media is an engaging way to get your brand noticed. Integrating the right software to help enhance your posts on popular social platforms is a great way to get your video noticed. Each platform works differently, draws a different audience, and will require an independent strategy. A knowledgeable digital strategist can develop a plan of action that works for your business.
We understand the problems you can see.
The specific goals of your digital marketing plan will vary. For example, you may want to share information to establish your expertise in a topic or increase awareness about an upcoming event. Do you need to let consumers know more about the specific services you offer? Most content has the same goal: engagement. But it should include a strong "sharing" strategy inspiring viewers to pass it along. The challenge is, how do you share effectively?
Whether you create a video for social media or need to engage from your business's website, the content needs to be unique. Don't settle for average, mundane talking heads spurting out stats. Find a way to use clever copy, engaging graphics and animated intros and outros. Whether it's a good joke, useful information, or really appealing aesthetics, the best video marketing campaigns offer entertaining content that people will encourage others to share with friends, family and colleagues.
We can't rewind; we've gone too far.
Interactive video marketing offers more opportunities for companies. Many brands, whether large or small, can successfully boost sales by engaging consumers on social media platforms. The future of video marketing will likely involve a fair amount of interaction with fans and potential customers. Here are a few options worth exploring:
Go live, to give viewers a real-time interactive experience
Consider virtual reality programs that allow consumers to "try" new products or experiences
Integrate augmented reality videos, programs, or games
Post quizzes to give consumers a chance to share their opinions
Create short multiple-choice or word games
Explore this mad, mad world.
If you're interested in video marketing for your business, you may need to build a team of pros to help create the content, manage the campaign, monitor the results and pivot when necessary. An experienced creative strategist will know how to combine current social and video marketing trends with your unique brand to produce an effective campaign.
Mad Hat Maven has a combined 30+ years of experience in marketing and video production. Our resumes tout names like Texaco, Chevrolet, Sprint, Noble Energy, NRG, and Chevron. We are no stranger to telling stories, but we may be a stranger to you –  so please, introduce yourself. We're interested in learning all about you.