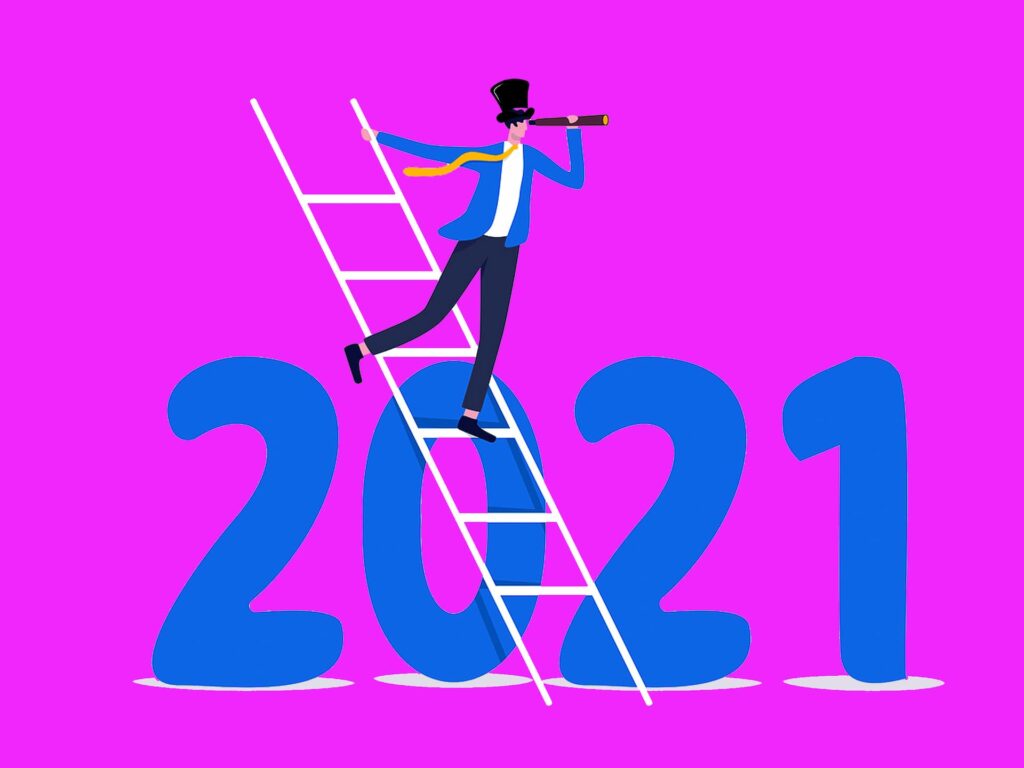 Let's face it. 2020 dealt us a hand that no one saw coming. The global pandemic forced many brick and mortar businesses of all sizes and industries to go into lockdown. Other businesses sprang up in response to demands (think mask making and protective face shields). One thing that was certain in a world of uncertainty, the internet kept us connected and allowed thousands of companies and schools to stay afloat and keep operating. Zoom calls, Google hangouts, online grocery deliveries, and proprietary phone apps for curbside delivery enabled us all to keep some of our routines going during periods of quarantine. Companies who were able to leverage their digital marketing plans and force the internet to do the heavy lifting were able to not only survive but thrive in this re-envisioned marketplace.
Given that we've seen the world turn on a dime, how do we learn and move into the future? What can we expect from 2021?
It's crystal clear that the internet remains the big stage. So with respect to the past, let's look at how we prepare for the future.
Be Prepared to Adapt
Admit that we don't know what we don't know. No one knows what's coming. But we do know that adaptability kept us going in 2020. Adaptability in your digital marketing strategy allows you to pivot in your thinking and reach your customers in new ways. A customer was planning a big product launch that was based on grass-roots marketing, attending events at local bars to talk to people and hand out promotional materials. Then the world went on lockdown and this whole strategy seemed impossible. They pivoted their energies towards a total digital marketing plan across multiple platforms targeting their key demographics. Because of the variety of digital channels available, they were able to test out various platforms and messaging to find the best combination and most effective results.
Inclusivity – The Way Forward
It's easy to scream into an echo chamber, but this is the time to break out and reach new demographics. Embrace the culture shift upon us and think about how your old message can be energized for a new audience. A study by Accenture found that "Shoppers are not just turning away from retailers that do not share their values, they are turning toward those that do." Diversity and inclusion in images and message will position your brand as forward-thinking and current. It's important not to treat this as simply a trend; inclusion needs to become part of your company philosophy and outreach.
Accountability Leads to Focus
Periodic evaluation of your digital marketing efforts shows where you're reaching your customers and where you're falling flat. Learn how to read and analyze the statistical data so that you can provide details of your success. Accountability for your digital marketing decisions should be based on a mix of data and instinct. Look at what is moving the needle, add in a little bit of your own experience and knowledge to arrive at a plan for the future. It's not a bad idea to throw it all out there at first to see what sticks but plan on time to assess results and quickly weed out the low performing channels. Spend marketing dollars where you get the biggest bang for your buck.
Innovation Will Set the New Normal
The phrase "think outside the box" may sound trite, but it's never been more prescient than right now. Innovation in ideas and implementation will take you forward. New challenges are around every corner; hopefully not as challenging as a global pandemic, but you never know. Online meetings for fundraisers, a concert series via Zoom, virtual graduations are just some of the ways that people took a different approach in 2020. By being prepared, knowing what's in your toolkit, and forcing yourself to think in new ways, your digital marketing strategy can keep you moving forward in 2021. Look for ways to engage your audience, build new followers, and monetize your assets.
A new year always presents a time to regroup and refresh. 2021 has the added task of determining what our new "normal" will look like. Resolutions are better positioned as goals. The team at Mad Hat Maven understands the challenges in reaching those goals in this current climate. Call today for a free consultation to see how we can help you move the needle.